Materials used in the manufacturing of our Furniture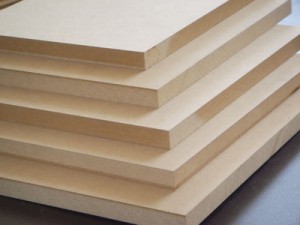 At Racso Designs we only use solid A grade MDF (Medium Density Fibreboard) also known as Supawood to manufacture our Children's Furniture. MDF is eco-friendly and fully recyclable. To manufacture MDF/Supawood fine wood fibres are coated in synthetic resin and then consolidated under high heat and pressure to produce a premium quality, versatile panel. This engineered medium density fibreboard (MDF)/Supawood blends the advantages of manufactured board with the natural properties of solid timber, allowing for most traditional wood working techniques. Its homogeneous construction allows for moulding, embossing, routing and edge profiling and is perfect for both domestic and commercial use. MDF/Supawood offers great machinability, moisture resistance and strength compared to chipboard.
No chipboard or Melamine is used in the manufacturing of our furniture. Our Furniture is first sanded down then primered and then sprayed finished in top quality (lead free and child safe) lacquer. The lacquer and primers are especially manufactured for the furniture industry and give a smooth, hard wearing finish. Our standard finish is white but furniture can be finished in mahogany or a bespoke colour of choice.
What Construction Methods do you use?
All our furniture is manufactured to the highest standards of cabinet making skills. We utilise many forms of joining to ensure the best possible joints for the purpose which include mortise and tenon, biscuit, rabbet joints, nail gun nails and more. All joints are glued using industrial grade wood glue.
How safe are your cots?
Our cots meet the highest safety standards and our construction is based on British Standards as there is no legislation in South Africa pertaining to the construction requirements of cots. Our bars on the rails of cots have a gap of maximum 57mm and are made from 16mm MDF with 22mm top and bottom rails. We have often found cots with 12mm bars and much wider gaps which we believe may lead to injuries.
Mortise and Tenon Joints are used in the joining of our cot rails forming a very rigid framework.
Drop Sided Cots? No— They have been banned in the USA and Britain and many more countries. The amount of injuries and deaths associated with drop sided cots has called for a total recall of cots in the US. We have been asked many times to make drop sides but with the safety of your child as our priority will not entertain such requests.
How do you build drawers?
We use old school techniques and all drawers have rabbet joints and slots for the bottoms to fit into them. We use steel wheel drawer runners ensuring smooth and long term operation.
Important Planning Details
We handle a 8 working weeks manufacturing lead time and thus recommend having confirmed and ordered your furniture by month 5 of your pregnancy to ensure timeous delivery. It is important to note that babies can arrive quite safely from week 36.